Join the Movement with Miss Rohini Naidu and Project Period by the Girl Foundation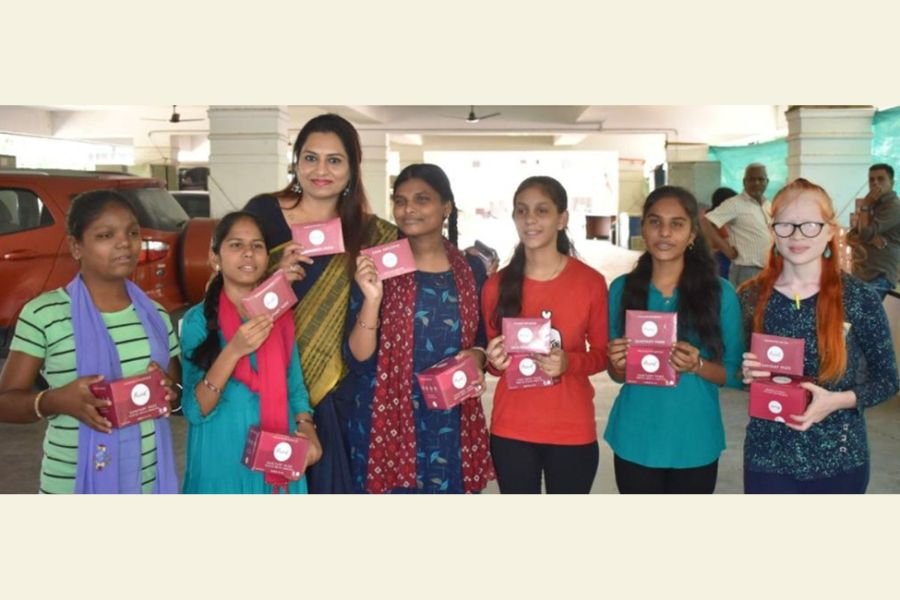 Discover Sustainable Menstruation with Period Healthcare
New Delhi (India), August 2: Menstruation, a natural and essential part of every woman's life, should be a period of comfort, safety, and dignity. Unfortunately, millions of women and girls around the world face the harsh reality of period poverty, where access to menstrual hygiene products is limited or nonexistent, impacting their health, education, and overall well-being. However, passionate individuals and organizations are working tirelessly to change this narrative and bring about positive change. One such visionary is Miss Rohini Naidu, the driving force behind Period Healthcare, and her transformative initiative, "Project Period" by Girl Foundation.
Miss Rohini Naidu, a woman of compassion and determination, has dedicated herself to the cause of women's health and empowerment. Her journey began with a profound realization that the lack of proper menstrual hygiene products affects physical health and poses social and psychological challenges for women and girls. Determined to make a difference, she embarked on a mission to provide eco-friendly, biodegradable sanitary pads that are safe for women and the environment.
Period Healthcare stands as a shining example of innovation and sustainability in the menstrual hygiene industry. Their eco-friendly pads are thoughtfully designed, using natural materials to ensure that every woman experiences the utmost comfort and safety during her periods. By choosing these chemical-free pads, women care for themselves and contribute to a greener and healthier planet.
However, Miss Rohini Naidu's vision extends far beyond personal care. She recognizes that to create a lasting impact, the issue of period poverty needs to be addressed at its roots. Through "Project Period" by Girl Foundation, Miss Rohini Naidu and her team work tirelessly to reach out to girls in need, especially those residing in shelter homes, blind schools, orphanages, and villages facing period poverty.
The initiative's core ethos is that change is possible when we come together. It encourages people from all walks of life to join hands in supporting this noble cause. One of the most heartwarming aspects of "Project Period" is the opportunity it provides for individuals to donate products to those in need. By donating sanitary pads to marginalized communities, we can help these girls break barriers, access proper menstrual hygiene products, and live with the dignity and confidence they deserve.
Miss Rohini Naidu believes that empowering women and girls with healthy, sustainable periods is not just about distributing pads but about empowering them with knowledge and understanding. Through interactive sessions and workshops, the Girl Foundation strives to educate girls about menstrual hygiene, bust myths and taboos surrounding periods and instill in them a sense of pride and self-assurance.
To further extend their impact, "Project Period" offers opportunities for collaboration with organizations and individuals to sponsor government schools and special schools with monthly or yearly stocks of sanitary pads. This not only ensures that these girls have access to menstrual hygiene products but also encourages them to prioritize education and reach their full potential without being held back by menstruation-related challenges.
The impact of Miss Rohini Naidu's vision and the Girl Foundation's collective efforts have been remarkable. Each sanitary pad donated brings a smile to a girl's face, a glimmer of hope, and a renewed belief in the power of compassion and solidarity.
As the Girl Foundation gears up to empower women and girls with healthy, sustainable periods, they invite all of us to join their cause and be part of this transformative journey. Together, we can make a bigger difference and create a brighter impact on millions of women and girls worldwide.
Let us spread the word and unite under the hashtags #ProjectPeriod and #SustainableMenstruation. As we come together, we can rewrite the narrative of period poverty and bring about a world where every woman and girl can embrace her menstrual cycle with dignity, confidence, and pride. The website is www.thegirlfoundation.org.in, and the phone number 9177527979.
If you have any objection to this press release content, kindly contact pr.error.rectification[at]gmail.com to notify us. We will respond and rectify the situation in the next 24 hours.