From Melodies to Milestones: The Harmonious Journey of Carnatic ClassicalLegend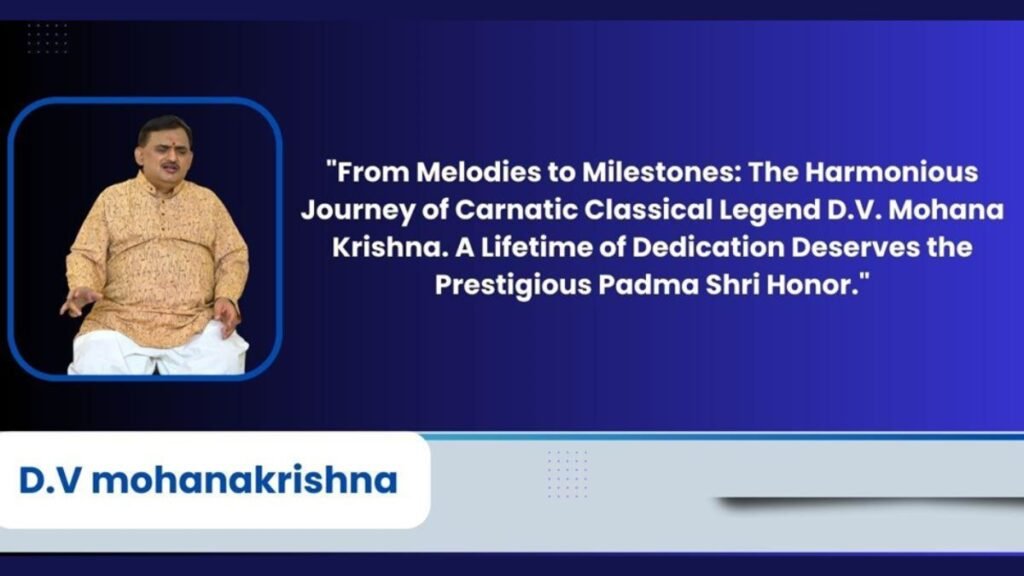 D.V. Mohana Krishna. A Lifetime of Dedication Deserves the Prestigious Padma Shri Honor."
New Delhi (India), August 2: D.V. Mohana Krishna Garu is a highly accomplished and renowned Carnatic classical musician and vocalist. He was born on August 3, 1962, in Machilipatnam, Andhra Pradesh, India, into a family with a rich artistic heritage. He is the grandson of the popular dramatist "Nataraja Sekhara" Sri D.V. Subba Rao.
His passion for music blossomed at a very young age when he began listening to music on the radio and tried to emulate the famous singers of his time. He received his preliminary training in Carnatic classical music from Sangeeta Vidwan Sri Sistu Prabhakara Krishna Murthy Sastry of Machilipatnam. However, he was fortunate to receive extensive and advanced training in both Carnatic and classical music under the tutelage of the legendary Dr. Mangalampalli Balamurali Krishna in the Guru Kula System, which is now nearly extinct.
Thanks to his dedication and the grace of his Guru, he became proficient in 72 scales and 35 talas of Carnatic music, excelling in both classical and light music. This unique Guru-Sishya combination allowed him to learn and master all the compositions of his Guru, as well as significant, popular, and rare compositions of the Carnatic Music Trinity.
D.V. Mohana Krishna Garu has had a successful professional career as a vocalist. He served as a Top Grade Vocalist of All India Radio (Hyderabad) in Carnatic classical music. He joined All India Radio, Vijayawada, as a staff artist in 1988, and later, in 1999, he moved to All India Radio, Hyderabad, holding the post of Selection Grade Staff Artiste until his retirement in August 2022, completing 34 years of service.
He has received immense appreciation from the audience for various programs and concerts, including the prestigious and popular program "Sangeetha Sikshana" on All India Radio. Additionally, he conducted a unique concept titled "Swara Raaga Sammohanam," where he sang a composition in a particular raaga, and the renowned South Indian film singer Dr. S.P. Balasubramanyam rendered film songs based on that raaga.
Throughout his career, D.V. Mohana Krishna Garu has given over 4000 vocal concerts in India and abroad, including concerts in the United States and Indonesia. He has participated in music festivals of Trinity and other Vaggeyakaras all over India. Furthermore, he has been a regular performer in the musical concerts organized by Tirumala Tirupathi Devasthanam at Tirumala & Tirupathi as part of Bramhotsavam celebrations for many years.
Apart from being a performer, he is also a composer, having created various ragas like Hanuma, Mahitha, Aparajitha, etc. He has composed and sung 50 Mangala Harathis on various deities. D.V. Mohana Krishna Garu has also been involved in music education, teaching music online and offline. He has students spanning five generations from all over the world, many of whom have become music teachers, performers, playback singers, music therapists, research scholars, and key members of music organizations, carrying the heritage of Indian music to future generations.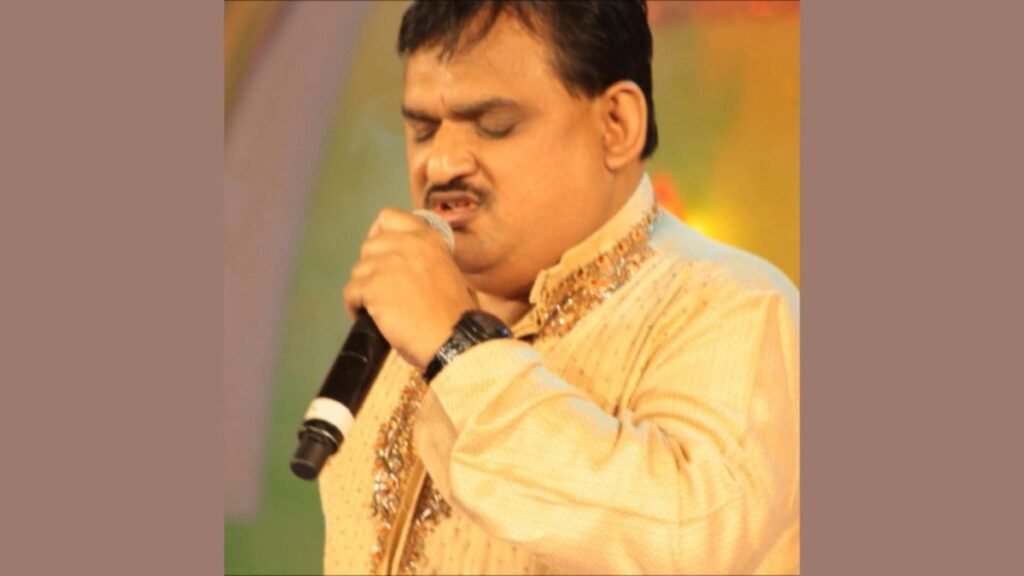 In recognition of his exceptional talent and contributions to the field of music, D.V. Mohana Krishna Garu has received numerous awards and honors. Some of these accolades include the First Prize in All India Level Radio Competitions of Carnatic Classical Music in 1980, Best Musician awards from the Central Government Panel of Examiners in 1982 and 1983, the "Kala Neerajanam" Award in remembrance of Sri Nandamuri Taraka Rama Rao in 1998, and the "SANGEETHA SUDHANIDHI" title conferred by the trustees of the former Prime Minister late Sri P.V. Narasimha Rao in 2009, among others.
Currently, D.V. Mohana Krishna Garu operates a YouTube channel named "MohanaRaagaalu," where he has released over 150 videos related to Carnatic, light, and devotional music.
For those interested in contacting him, his address is:
H. No- 2-1-471/D, Flat No 103
Sharada Apartments,
Street No -6, Lane Opp. Post Office
Nallakunta, Hyderabad- 500044.
Mobile No: 9396266786
Email: mohanagaanam@gmail.com
Youtube Channel: https://www.youtube.com/user/mohanaraagaalu
D.V. Mohana Krishna Garu's illustrious career and dedication to preserving and propagating Carnatic music have left a lasting impact on the field, and his contributions have been recognized and appreciated by audiences, fellow musicians, and various institutions across India and abroad.
If you have any objection to this press release content, kindly contact pr.error.rectification[at]gmail.com to notify us. We will respond and rectify the situation in the next 24 hours.