Pagaria Group Unveils Empanelment Of ProxKey USB Token With Certifying Authorities in India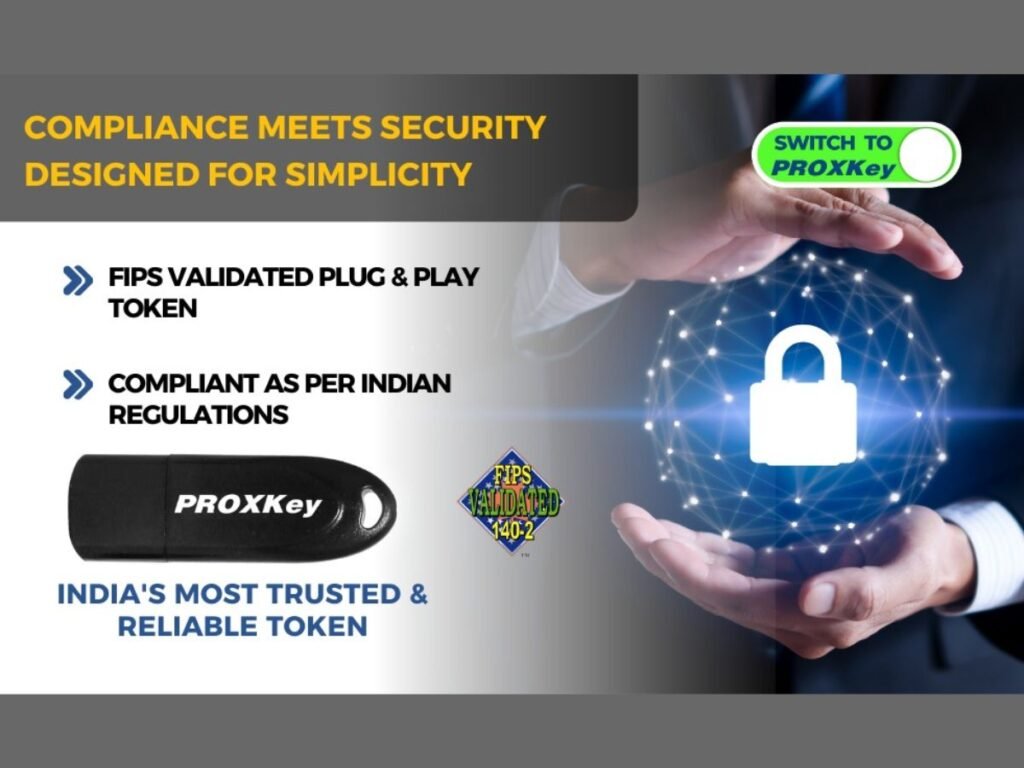 New Delhi (India), July 28: In November 2022, the Office of the Controller of Certified Authorities (CCA) released new "Security Requirements For Crypto Devices." As a prominent global partner for ProxKey USB tokens under the Watchdata OEM brand, Pagaria Group is delighted to announce the successful empanelment of ProxKey USB token has in compliance with these regulations.
The new security guidelines have been effective since 1st July 2023. Henceforth, all new signatures must be created using the updated series of USB tokens, adhering to the latest regulations. The CCA office published these guidelines to outline the security prerequisites for crypto devices employed by end users to execute digital signature functions. The recent guidelines also define the specific requirements for crypto devices used to carry digital signatures in India.
The Controller of Certified Authorities (CCA) is a crucial regulatory body responsible for overseeing the issuance of digital signatures in India. As part of the Government of India, its primary focus is to encourage the widespread adoption of digital signatures, promoting E-commerce, and facilitating E-governance initiatives. To achieve this, licensed Certifying Authorities (CAs) ensure the legal validity and enforceability of digital signatures in India by issuing digital certificates that comply with the Indian IT Act, 2000.
As per the regulations in India, Federal Information Processing Standards (FIPS) validation of USB tokens holds great significance. This validation ensures that the USB tokens meet the strict security standards established by the United States government, particularly those set by the National Institute Of Standards And Technology (NIST).
Digital Signatures have found numerous applications in India across various sectors in recent years. Some of the critical applications of USB token devices in terms of digital signature applications include e-governance and digital transactions, income tax and GST filings, banking and financial services, digital certificate and document signing, legal and court documents, academic and examination records, healthcare and telemedicine, real estate transactions, and digital identity verification.
USB tokens are hardware devices that generate and secure private keys for digital signing. They provide enhanced security compared to software-based methods, as the private key remains within the token. USB tokens offer an unparalleled level of security by generating and safeguarding private keys for digital signing purposes. Unlike software-based approaches, the private key never leaves the token, ensuring an impenetrable fortress against potential cyber threats.
"We are thrilled to announce the compliance and empanelment of the ProxKey USB token with the new security guidelines released by the office of CCA. With these new security guidelines, CCA is encouraging a favorable ecosystem for adoption and growth of digital signatures in the country," says Project Consultant to Pagaria Group Ankush Pagaria.
The Pagaria Group has promoted USB token sales and growing applications for over a decade. The company has established itself as a reputed brand in India, the Middle East, and APAC regions with its easy, secure, and value-for-money offerings, such as the ProxKey USB token. With compatibility with most commercial certifying authorities and digital signature applications in India, it provides users peace of mind when handling sensitive digital transactions.
Designed to be one securest and lightweight cryptographic token USBs in the world, ProxKey is a FIPS 140-2 Level 3 validated USB-based PKI, which offers unmatched security, portability, and ease of use for online authentication, digital signatures, encryption, and secure online transactions. To further support its clients, Pagaria Group is offering free bulk PDF signers with the purchase of ProxKey USB tokens.
If you have any objection to this press release content, kindly contact pr.error.rectification@gmail.com to notify us. We will respond and rectify the situation in the next 24 hours.