Remembering Sardar Pritam Singh, India's Sporting Icon on his Birth Centenary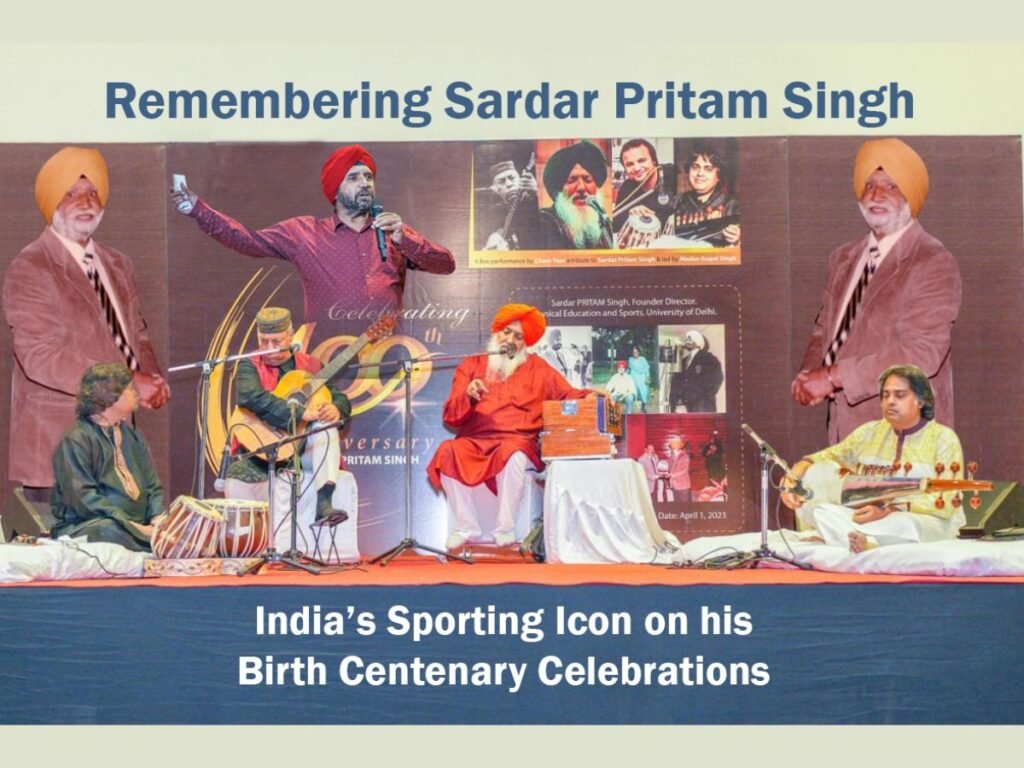 Remembering Sardar Pritam Singh, India's Sporting Icon on his Birth Centenary Celebrations
New Delhi (India), April 8: Luminaries from sports, music, art & culture, academicians, corporate and Media joined his son HP Singh 'Rishi' & family to mark the birth centenary of India's Sporting Icon Sardar Pritam Singh in Delhi on April 1, 2023. It was a diverse congregation of all ages and faiths, common grail being sports and soulful music.
There could not have been a better tribute to the young-at-heart Pritam Singh, who if alive, would have turned a centurion on that day. A Magical musical tribute to a Sports Noble was organised to commemorate his big day. The performers (Chaar Yaar) came from different beliefs and theology — indeed a queer combination — they cast a virtual spell holding a diverse assemblage in trance. It was a tribute to the man who never denied but defied age.
Under his aegis, Founder Director, Sports and Physical Education, University of Delhi 1968 onwards, University of Delhi won the coveted Maulana Abul Kalam trophy for overall supremacy among universities 17 times. His athletics squad won the top Inter-University honours first time in 1973 and repeated the feat many times over.
Right from captaining Khalsa College, Amritsar and Panjab University in pre-partition days, and scoring six goals against Delhi University, he stood out front in his sporting career. He began his stint as physical education and sports in charge at Vaish College, Bhiwani, moving to Khalsa College, Dev Nagar, Delhi in 1951, where in the very first year Khalsa broke the monopoly of St Stephen's College in athletics having less than 100 students on rolls. Taking over Founder Director, Sports and Physical Education, University of Delhi, 1968 onwards, Pritam Singh's contribution to enhancement of sports remained unparalleled.
Remembering this great sports legend, Prof Avinash Singh, a journalist and academician recalled "Never scared of criticism, Pritam Singh once walked into the office of K R Wadhwani, the then Sports Editor of The Indian Express in 1980 to complain that he was missing his fault-finding and admonishing in his columns for many weeks. "Your berating through your writings always encourage me to perform with renewed vigour," he told Wadhwani. So impressed the sports scribe was with his down-to-earth approach that Wadhwani never wrote against Singh after the episode.
Prof Singh, once a sports reporter, further recollected: "Just before one of the Inter-University meets at University of Delhi, a strike by class IV employees made him apply a unique technique. Singh visited nearby villages asking farmers to send their cattle to the University fields for grazing. Cattle cleared the unwanted growth at sports arena and the class IV returned back to work, apologising Suo moto. He was the Chief Administrator for DU grounds as host for two important events during 1982 Asian Games. He was also a special invitee to the Atlanta Olympics!
He was a courageous leader who churned out winners. With deep interest in poetry and folk music, he always remained a happy person and spread gaiety singing aloud and being a central figure in his colony, Ajay Enclave in Rajouri Garden area. Sadly, he passed away on Feb 8, 2020.
As part of the celebration a 100-minute solemn & dignified rendering by 'Chaar Yaar', was had many in tizzy. When Pandit Pritam Goshal and Deepak Caterlino on their respective instruments prodded Amjad Khan to give the first 'dhap' at tabla and Dr Madan Gopal Singh began his 'alaaps', forming prologue to formal musical expression, the gathering at a University of Delhi College knew what was in store for them! Mesmerising and magical musical feast!
The quartet, for little over one-and-a-half-hour literally took the pack on a transcendental journey from Bhakt Kabir to popular folk, via Rumi, Sheikh Farid, Guru Nanak, Bulle Shah with invocations to Ma Saraswati, Hazrat Nizamuddin Auliya and Kwaja Moinuddin Chisti. The verses of Christian maestros, where Deepak Casterlino, took the lead or joined Dr Singh, also known as (aka) Montoo Bhai, too sent many into tizzy. The Ensemble sang in Punjabi, Urdu, Bengali, Persian, English and Brij basha to bewitch and enchant the turnout with a casting spell. The recitations included Vandana, Allah Hu, Gagan Mein Thal (including a bit of Bengali version of Nanak's Aarti transcribed by Rabindranath Tagore), some popular Punjabi and English verses, 'Dama Dam Mast Kalandar' providing the crescendo culminating in a roaring applause and a standing ovation!
Thanking everyone for honouring and remembering his father, HP Singh Rishi said "We wish he were alive today to personally receive this honour. I hope that my father's outstanding achievements in the field of sports would ignite the minds of many a young upcoming sportsperson.
"It is gratifying that after his death, his achievements and his great life and contributions are now being gradually recognized and tributes are now being paid which he greatly deserved. May his exemplary life continue to inspire our youth," he added. 
If you have any objection to this press release content, kindly contact pr.error.rectification@gmail.com to notify us. We will respond and rectify the situation in the next 24 hours.