Honorary Consul General Neeraj Sharma bags two of the most Prestigious Awards!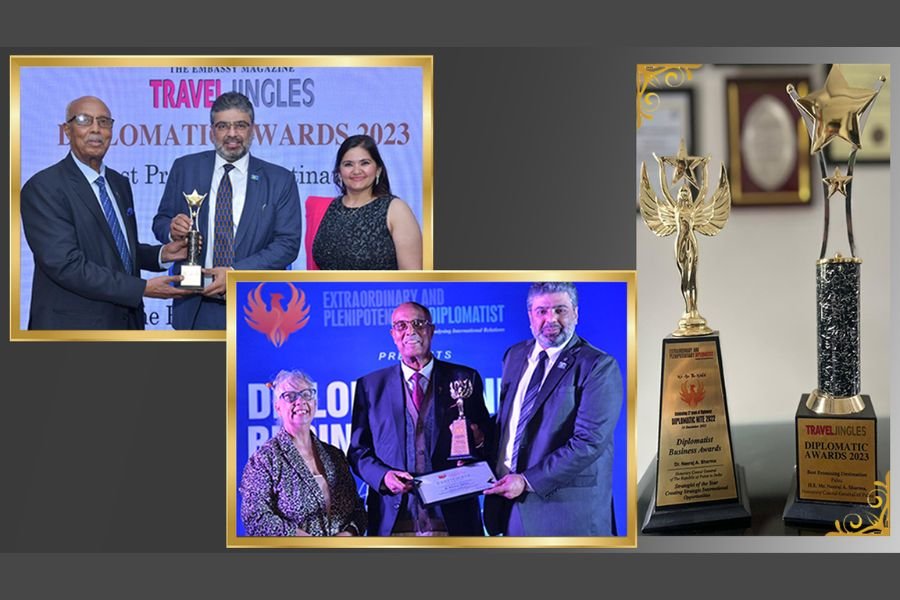 Neeraj A Sharma, Honorary Consul General, bags two prestigious awards
New Delhi (India), March 30: Neeraj A. Sharma, the Honorary Consul General of the Republic of Palau in India, is a name that resonates with excellence, leadership, and innovation. A true prodigy of the second generation in the business, he has carved a niche for himself in the competitive landscape of international trade, diplomacy, education, and tourism. His vision and foresight have helped him create new markets and opportunities for his business and the Republic of Palau. Neeraj Sharma's guidance and mentoring have helped many young entrepreneurs achieve their goals. His achievements have earned him the respect and admiration of the business community and also the people of Palau. Recently awarded the "Best Promising Destination – Palau" award by the Travel Jingles Magazine and the prestigious "Strategist of the Year" award by the Diplomatist Magazine, Neeraj has always demonstrated his exceptional vision and capabilities in creating strategic international opportunities and fostering sustainable growth.
Born and raised in a family of entrepreneurs, Neeraj inherited the passion for driving businesses from his family. As he grew up, he decided to branch out into other fields, which led him to become a mentor and advisor in various industries. Having completed his Master in Foreign Trade from Pondicherry University and his Certification in Management from IIM Kozhikode, The academic exposure, coupled with his practical experience in business, provided him with a strong foundation for his future endeavours. His expertise in International Relations, Public Administration, Higher Education, Information Technology, and Hospitality made him a sought-after mentor and advisor by top-level executives, founders, and companies. During the journey, his expertise in cross-border relations and strategic planning soon caught the attention of diplomatic circles, and he was appointed as the Honorary Consul General for the Republic of Palau in India.
The Republic of Palau is an archipelago island nation in the Pacific known for its pristine beaches, coral reefs, and rich cultural heritage. Tourism being the main contributor to its GDP, Neeraj saw it as an opportunity to apply his skills and knowledge to promote Palau as a promising destination for tourism and bilateral trade, as Palau is considered to be very investor friendly. Under the leadership and guidance of the Honourable President of Palau, His Excellency Surangel Whipps Jr., the Honorary Consulate of Palau in India has launched several initiatives to create awareness and generate interest among Indian tourists, business houses, and investors. These include organizing cultural festivals, business networking seminars across India, partnering with leading travel agencies and airlines to offer attractive packages, and providing assistance to Indian businesses interested in investing in Palau. He also envisions making Palau the knowledge and technology gateway to Oceania.
Neeraj Sharma's success can be attributed to his unique blend of skills, knowledge, and personal traits. He is not only a skilled marketer and strategist but also a compassionate and empathetic corner office leader who values his relationships with his partners, clients, colleagues, and community. His ability to understand the needs and aspirations of his stakeholders and align them with his vision and goals has helped him build a strong network of supporters and collaborators. His success in the business world is not just limited to creating strategic alliances and expanding the family business; he is also known for his guidance and mentoring of founders and top-level executives. He is fondly called "Guru" by those who seek his mentorship and advice. He has the ability to identify the potential in people and businesses and align them with a progressive direction and support to achieve their objectives.
Neeraj's success story is an inspiration to many young entrepreneurs, especially women entrepreneurs who aspire to make it big in the business world. His journey from a second-generation businessman to a successful strategist and mentor is a testament to the power of hard work, dedication, and vision. His passion for innovation and his entrepreneurial spirit helped him achieve great success in his career.
Fortunately, he remained grounded at all times and always attributed his achievements to his family, friends, and colleagues who supported him throughout his journey. He believes that success is not an individual achievement but a collective effort.
Neeraj Sharma is a true visionary and leader who has made significant contributions to edutech, real estate, fintech, technology, and diplomatic missions. His dedication and passion for his work have earned him numerous accolades and recognition, and he will continue to be an institution of learning and experience for society.
For more information, please visit: https://consulateofpalau.com/ or https://www.linkedin.com/in/dr-neeraj-a-sharma-67b20480
If you have any objection to this press release content, kindly contact pr.error.rectification[at]gmail.com to notify us. We will respond and rectify the situation in the next 24 hours.