Professor NM Khandelwal Shares the Vedic Theory of Wealth in his book 'How to Be Rich and Happy'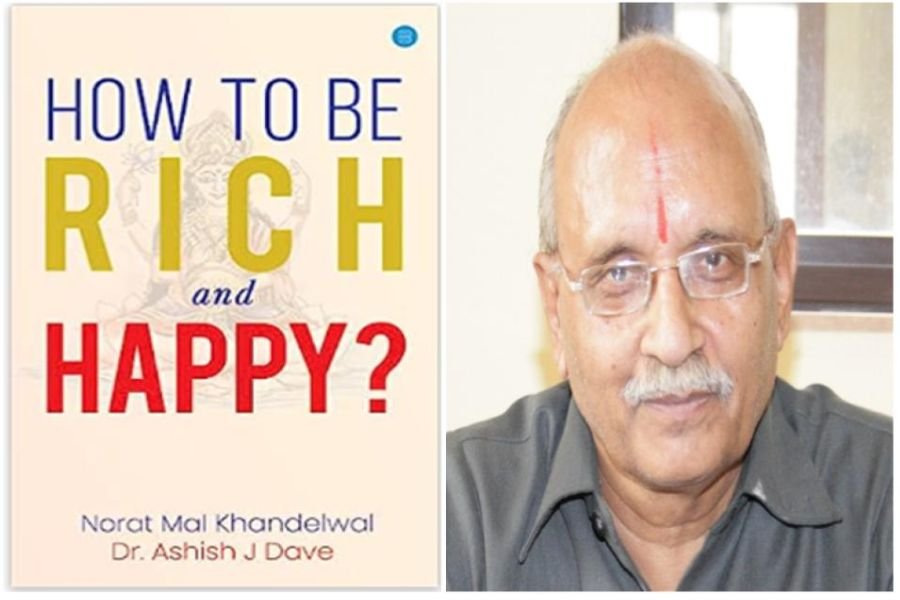 New Delhi (India), June 30: BlueRose Publishers is thrilled to present another captivating book by esteemed author Professor NM Khandelwal. In this latest publication, readers are invited to explore the Vedic Theory of Wealth and uncover the secrets to attaining both riches and happiness. With a distinguished background as a university professor, dean, director, and head, Professor Khandelwal brings his extensive knowledge and expertise in Indian management to provide valuable insights for readers seeking abundance in their lives.
Professor NM Khandelwal's remarkable career spans decades of academic excellence and research. He has mentored and guided numerous students, producing 23 doctoral scholars who have gone on to make significant contributions to the field of management. With 30 books on Indian management, 60 articles, and research papers to his name, Professor Khandelwal has established himself as a leading authority on the subject. His commitment to furthering Indian knowledge systems, particularly in the realm of management, is evident through his contributions and leadership as the Founder and Chairman of the Academy of Vedic Management.
Having discovered the Vedic Theory of Wealth at a young age, Professor Khandelwal was inspired to write this book to share profound insights from our rich heritage. Readers can expect a deep exploration of the Vedic theory of wealth, with practical guidance on how to achieve prosperity and happiness. Through the book, Professor Khandelwal offers readers an opportunity to understand the Vedic ways to riches and cultivate a holistic approach to wealth accumulation.
In addition to his writing endeavors, Professor Khandelwal actively engages with his audience through various channels. He delivers insightful lectures on Indian management topics through YouTube, providing a valuable platform for knowledge dissemination. Moreover, his participation in panel discussions on the Gita (Bhagavad Gita) on Vartic TV showcases his dedication to exploring the intersection of ancient Indian wisdom and modern management principles. Professor Khandelwal's commitment to research and his desire to enhance the Indian knowledge system, particularly in the management field, continue to inspire his readers and followers.
The Support of BlueRose Publishers:
The outstanding work of Professor NM Khandelwal is published by BlueRose Publishers, which is run by Managing Director Mr. Syed Asad.  The company recognizes the author's passion and dedication to his craft, and through their collaboration, they aim to excel in promoting profound knowledge and valuable insights to readers.
To further benefit his readers, Professor Khandelwal encourages them to subscribe, like, and share his lectures on YouTube free of charge. In a gesture of generosity, he offers free consultations once a month, allowing individuals to seek guidance on wealth-related issues in their lives based on Vedic solutions. This unique opportunity to interact directly with the author demonstrates his commitment to helping others navigate the complexities of wealth management.
Professor NM Khandelwal's latest book, "How to Be Rich and Happy," published by BlueRose Publishers, offers readers an enlightening journey into the Vedic Theory of Wealth. With his extensive academic accomplishments, numerous publications, and passion for sharing knowledge, Professor Khandelwal continues to champion the Vedic ways to abundance. By delving into the depths of ancient Indian wisdom, he empowers readers to lead a fulfilled and prosperous life. "How to Be Rich and Happy" is available for purchase on Amazon, inviting readers to embark on a transformative exploration of the Vedic principles of wealth.
You can purchase the book here:https://amzn.eu/d/9vSjlfT
If you have any objection to this press release content, kindly contact pr.error.rectification[at]gmail.com to notify us. We will respond and rectify the situation in the next 24 hours.